Bobby Ryan, Golfing, Charity and Why Donnelly Ford Is More Than Just a Dealership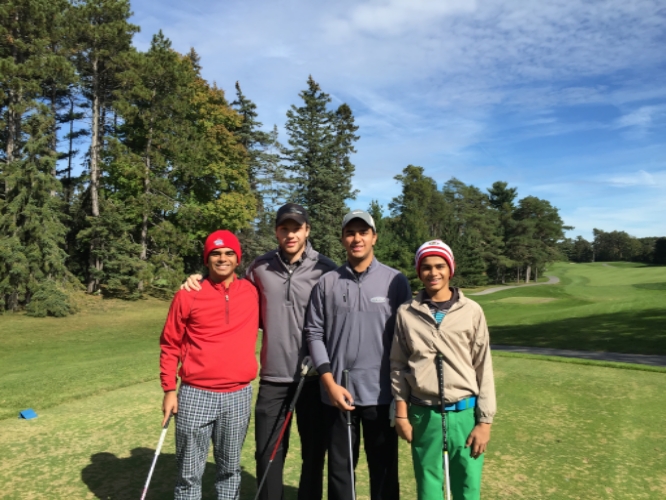 Nikhil, Sameer and Romi Dilawri with Bobby Ryan at the 1st tee box!
We sell cars, we sell trucks, we sell SUVS. We service all sorts of vehicles, clean and detail automobiles of all shapes and sizes.
But that's not all we do. Yes, we're a local automotive dealership, but we consider ourselves to be so much more. We're all part of Ottawa and the surrounding area and we're very proud of that fact. We like to give back in both big and small ways. And, yeah, we even like to have a little fun.
What you may not know is we are huge supporters of
Free the Children
. For the past three years we have sponsored National We Day that takes place right here in Ottawa, and we also support Free the Children's 
Project Jenga
. The goal of Project Jenga is to raise enough funds to build a secondary boys school in Kenya. To date $500,000 dollars has been raised for this important project.
At a Project Jenga gala and auction last year, the Donnelly Group worked with our friend and partner Bobby Ryan to offer a special item: a golf round with Bobby. People at the auction jumped at the chance and the bidding soared. At the end of the bidding, the Dilawri Family won the golf round.
On Oct. 4th, Bobby Ryan and the Dilawri Family spent a day golfing, hosted by Tom Donnelly.
Meera Dilawri said it best, "Everything was perfect! We were lucky with the weather and the boys loved their time golfing with Bobby. He was very gracious and friendly and seemed to enjoy his day as much as everyone else! My youngest, Romi (13), even beat Bobby by one stroke!! Thank you for all your efforts in getting this day organized."
It was our pleasure!